Albert Goguet Mantelet
French 1858 – 1958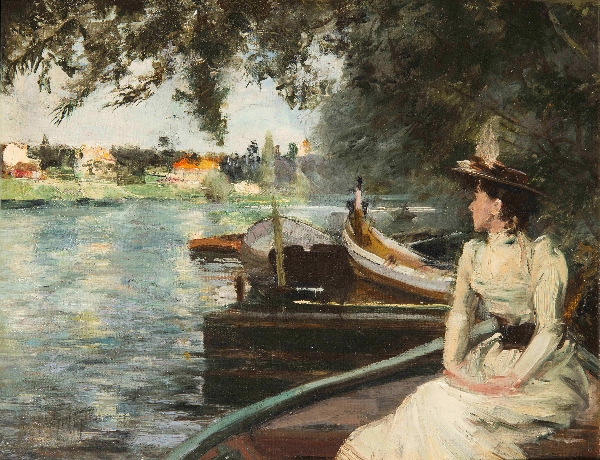 Albert Goguet Mantelet was a French artist who worked in oil, pastel and watercolour. He was considered one of the most accomplished pupils of Ernest Hébert and Heinrich Lehmann, who were both a strong influence on Mantelet's early, more classical style.
Mantelet developed a reputation as a painter of elegantly dressed women shown in scenes of fashionable life. These show his mastery of combining Neoclassical and Impressionist styles which owe much to the influential artists of his time like Jacques Joseph Tissot and Claude Monet. He also painted classical landscapes, portraits and still life.
As Mantelet's style evolved he gained high critical acclaim and quickly became a success as an artist.
Paintings by Mantelet appealed greatly to wealthy European industrialists during the second half of the 19th Century and early 20th Century. This gave rise to a number of lucrative commissions for portraits and other subjects. He became known as an artist who specialised in portraying fashionable members of high society dressed in haute couture, giving his patrons insightful observations of the lives of the fashionable members of the upper class, among whom Mantelet moved comfortably.
His paintings of beautiful young women, adorned in their finest, amid sun washed river banks, bright lawns and formal gardens were the playgrounds of the privileged in London and Paris.